Italian cuisine has reached further around the world than Julius Caesar's troops could have imagined. Pizza and pasta are popular from Piacenza to Perth via Patagonia.
One of the great pleasures of learning Italian in Italy is enjoying the superb flavours of Italian food. This is a country where the cuisine is at the very heart of the culture, where families spend hours around the dinner table and culinary excellence passes down through generations.
We asked some of the staff in our Italian offices and at our partner schools in Italy to recommend a local dish. Here is what they consider the best Italian food:
Milan: Risotto alla Milanese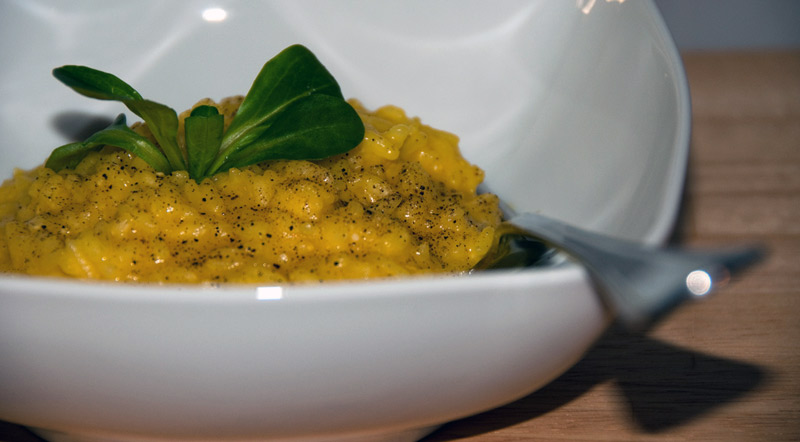 Photo: iz4aks
Olivier from ESL's Milan office recommends this delicate local risotto:
"Visiting Italy without trying this local dish is a sacrilege! Every region has lots of typical dishes, but if you pass Milan, you really should try the famous risotto alla Milanese. The principal characteristic is its yellow colour coming from the saffron."  Olivier's tips for where to find a great risotto are Osteria La Piola ("very close to Città Studi and good for students") and Ambrosiano ("a hotel that received a prize for the best risotto in Milan").
The risotto is delicious by itself but is often served alongside ossobuco.
More about our Italian courses in Milan
Sicily: Pasta pesce spada e menta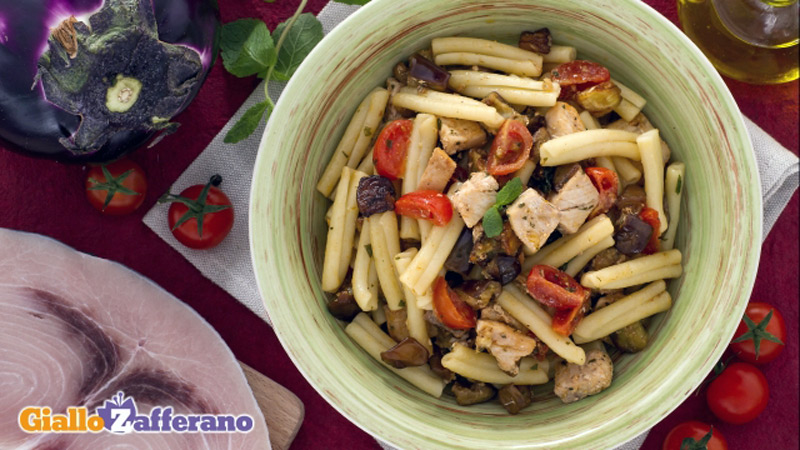 Ketty Scarcella from our Babilonia partner school in Taormina, Sicily, thinks that the best Italian food is the Spaghetti con Spada e Menta (spaghetti with swordfish and mint).
Ketty says: "The Sicilian sea is a true treasure chest offering infinite gastronomic insights into the traditions and tastes of this land. To face Sicilian cuisine means entering in direct contact with ancient traditions brought by the many conquerors of this island.
In fact, since the time when the island was a Greek colony, the delicious fish found along the Sicilian coast were renowned all across the classical world. From the beginning of the 9th century until 1000AD, the Arabs dominated the island and the use of sweet and sour in the preparation of fish, meat and vegetables grew."
"Amongst the most famous fish products are fried minnows, in Sicilian dialect called cicireddu or sciabbacheddu, which are often sold in the markets of Palermo just like typical street foods like octopus, sea urchins and raw and cooked seafood. The markets are one of the things that I love most about my country… they are a journey among the people of Sicily: atmosphere, magic, colours, voices and chaos… the discovery of the real Sicilianity!"
Pasta pesce spada e menta is a popular Sicilian primo piatto. You can find a recipe for this simple but tasty dish here.
More about our Italian courses in Taormina
Verona: Risotto all'Amarone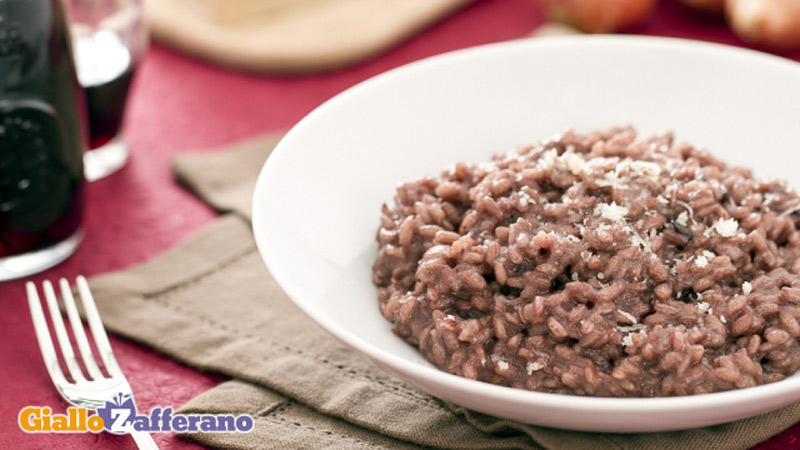 Sonia from ESL's Verona office loves Italian Food and her recommendation is Risotto all'Amarone:
"No visit to Verona is ever complete without tasting the famous risotto all'Amarone, one of the most delicious dishes of our traditional cuisine. Three top products of excellence of our territory determine the unique taste of this dish."
"The risotto, often served on a basket of parmesan cheese, is made with the Vialone Nano rice, a typical variety of this area, the Monte Veronese cheese and, of course, the Amarone red wine. The latter, which literally means "very bitter", owes its origins to a mistake made by a winemaker around the year 1940: now, it's the most prestigious and appreciated wine of this region!"
You can find a recipe here.
More about our Italian courses in Verona
Salerno: Scialatielli ai Frutti di Mare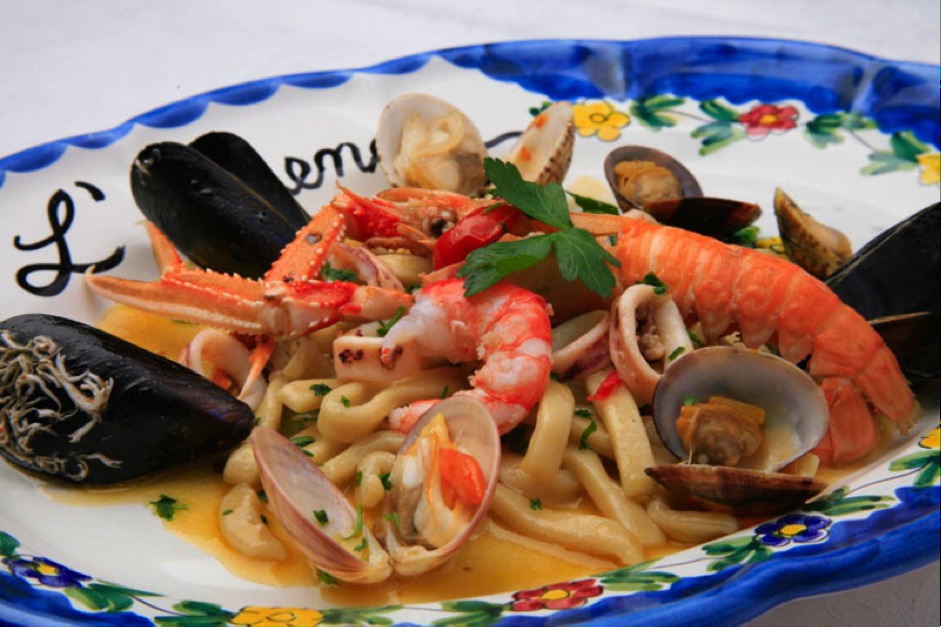 Fabiola from our partner school Accademia Italiana in Salerno recommends Scialatielli ai Frutti di Mare:
"Salerno is not a touristic city and this aspect can also be seen in its cooking which is really traditional with typical products such as mozzarella di bufala, olive oil, tomatoes s.marzano, lemons from the Amalfi Coast and, of course, fish. It is almost impossible to choose only one dish but there is something that you mustn't miss while visiting our area: the "scialatielli ai frutti di mare", a particular kind of handmade pasta with sea food."
"The scialatielli were made for the first time in Amalfi in 1978 by the chef Enrico Cosentino. The name is a dialect word that probably derives from the union of the other 2 dialect words "scialare" which means "to enjoy" and "tiella" which means "frying pan", used to prepare the sauce.
This particular kind of pasta is usually made with flour, milk, olive oil, goats' cheese, pepper and salt.  What really makes this different from the other dishes is the texture of the pasta which absorbs the sauce with the seafood and truffles and it takes on a particular flavour deriving from the mixture and the variety of the ingredients."
You can find a recipe here. Also check out our special "Language Food and Wine" programme in Salerno, which includes practical cooking lessons about traditional food, cooking and wine seminars with wine tasting.
More about our Italian courses in Salerno
Rome: Coda alla vaccinara

Photo: Euge
Loris from ESL's Rome office recommends coda alla vaccinara, a Roman oxtail stew.
Once upon a time, Roman cattle butchers would be paid for their work with the "spare parts" of the animal, including the entrails and the tail. Of course, they found a way to turn these into something delicious and Coda alla vaccinara was created, using the tail of the ox. It is a rich, slow-cooked stew that often has a slight sweetness to it to balance some of the strong herbs used. An essential Roman dish!
You can find a recipe here.
Check out 10 things to do in Rome under €20 or find out more about our Italian courses in Rome
Bologna: Tortellini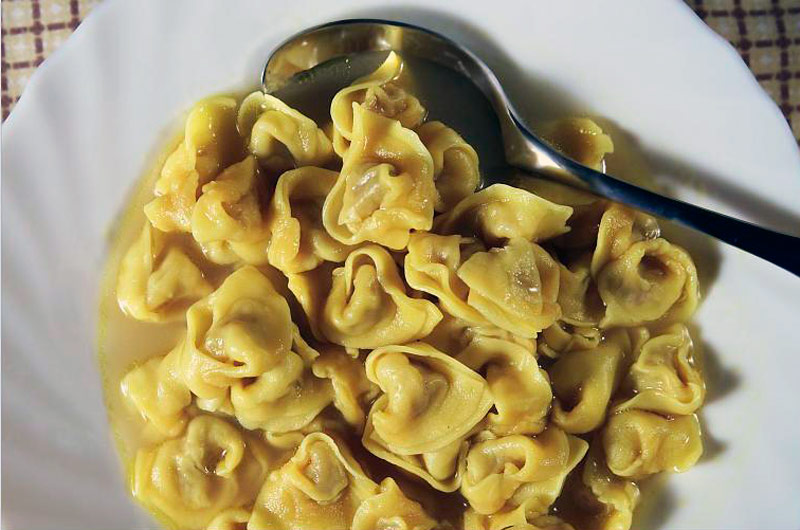 Photo: paPisc
Giovanna from ESL's Bologna office recommends Tortellini:
"The most typical dish to recommend in Bologna is Tortellini (or turteléin, as it's called from local people). A legend born of the historic rivalry between the two cities of Bologna and Modena says three Olympians were sent to resolve the conflict: Mars, Venus and Bacchus.
During their trip, one night they were hosted in a local inn at the borders of the two cities. The host was enchanted by Venere's beauty, and could not resist peeking into her room through the keyhole. Lighted by two candles, he barely saw her navel and decided to reproduce it with the made pasta he was preparing. For this reason Tortellini are also called Venere belly button."
"Today Christmas is not Christmas without Tortellini in brodo, and you can't leave the city without having tasted it."
A local rhyme about Tortellini
Quale cibo sopraffino
è il felsineo tortellino:
dentro al brodo di cappone
te lo mangi in un boccone,
se poi metti panna o ragù,
te lo gusti ancora di più.
Translation
What food superfine
is the tortellini Bolognese:
inside the capon broth
you eat it in one bite,
then if you put cream or sauce,
I'll taste even more.
Check out more useful information about Bolognia or find out more about our Italian courses in Bologna
Tuscany: Pappa al Pomodoro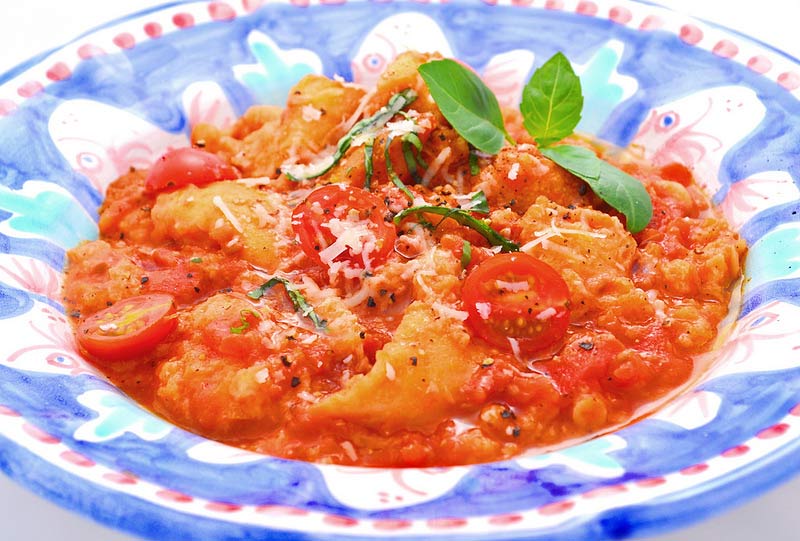 Photo: Mike65444
Giorgia from our Linguaviva partner school in Florence recommends Pappa al Pomodoro:
"If you ask any Italian about pappa al pomodoro they will start singing a famous tune : 'Viva la pappa col pomodoro ….viva la pappa… pa… col po..po..pomodoro che è un capolavoro!' A nonsense rhyme made famous by Rita Pavone in a TV fiction of the late sixties, after Gian Burrasca: a very famous Italian novel for children, which described the misgivings of a cheeky and naughty boy at the turn of the 20th century, whose desperate relatives locked in a boarding school."
"Pappa al pomodoro is one of the typical Tuscan soups that combine very simple ingredients: tomatoes, bread, onion and garlic cloves, basil, olive oil. Like many Tuscan soups is very filling because bread is added to it to make it rich and consistent.
This was the way food was conceived – nourishing and with basic ingredients. The people who lived in the countryside could not afford meat so the daily cooking was with vegetables, bread, beans, olive oil some of the typical products of Tuscany.
"Another rich and very typical Tuscan soup is Ribollita …more about it next time.  Pappa al pomodoro is best tasted with a light white wine, from Elba Island, with a fresh and summer note in its taste."
If you want a taste of a good pappa al pomodoro in Florence, Giorgia recommends Trattoria Baldini.
Or check out a recipe here.
More about our Italian courses in Florence
How about you? Which do you think is the best Italian food?