France has a global reputation for excellent food. But calling it simply "French food" would be to ignore the richness of regional cuisine. In a country that stretches from the Pyrenees to the North Sea, there is a huge variety of dishes to savour.
We asked some of our French staff and partner schools for their local tips:
Lyon: Quenelles
ESL's France Regional Manager Magali Toureille says that "if you go through Lyon, I recommend you stop in a bouchon". The iconic local restaurants that once fed the city's manual workers have become destinations for foodies from all over the world.
The food in a bouchon is hearty stuff, and nothing is more iconic than the Quenelle Lyonnaise (dumpling).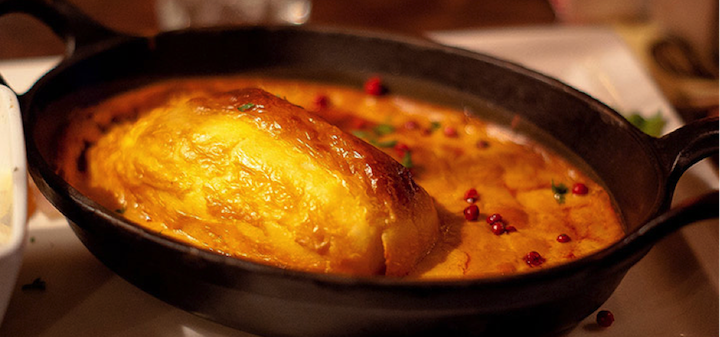 "The quenelle is made from durum, semolina or flour; butter, egg and milk, it is prepared in tomato sauce, béchamel or crayfish, all that served au gratin, a treat!" says Magali.
You can have a go at making quenelles at home:
Nice: Socca
"It's not possible to visit Nice without tasting the socca!" says Virginie Faure from our local office. The local favourite is "essentially a large chickpea pancake… traditionally cooked in wood ovens, roughly cut and served hot or warm."
According to legend, Socca was created by accident during a Turkish attack on the city in 1543.  The Niçois weaponised the favourite foodstuff of hippies by mixing chickpea soup with hot oil and pouring it down onto the heads of the invaders. As well as melting the flesh of the enemy, it tasted great.
Other (perhaps more believable) stories suggest that it came from Genoa, which once ruled Nice and has a long history of trade with North Africa.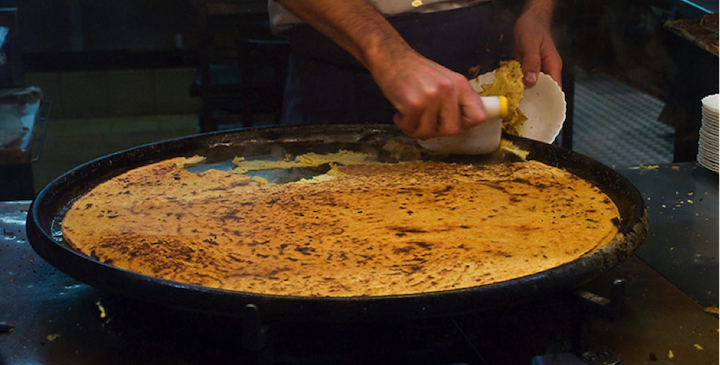 The dish is now more popular than ever, often as a light meal or aperitif, and is available all over Nice. It's not haute cuisine, but it is delicious.
Biarritz: Poulet Basquaise / Gâteau Basque
Guilhem from France Langue in Biarritz couldn't choose between a main course and a dessert, so he recommended one of each.
Poulet basquaise is a speciality of the Basque Country. The dish includes chicken pieces, cooked in a casserole with a mixture of ripe tomatoes, red and green peppers, garlic, onion and espelette pepper, a sweet and spicy local ingredient that has AOC (appellation d'origine contrôlée) status.
It's another easy one to make at home, but it will taste better with the Bay of Biscay twinkling nearby.
For pudding, Guilhem recommends Gâteau Basque, a cake that is popular all over the Basque Country. The traditional version is served with black cherry jam, although another popular version is filled with custard.
You can find a recipe here.
Bordeaux: Lamproie Bordelaise / Canelé
Geraldine from France Langue in Bordeaux also recommends a main course and a dessert.
The lamprey may not be the most beautiful of animals, but its meat has been a delicacy in much of Europe since the days of the Romans. Lamproie Bordelaise is only available in February and March, when lamprey return to the Dordogne. Timing matters because the fish must be alive at the start of the preparation.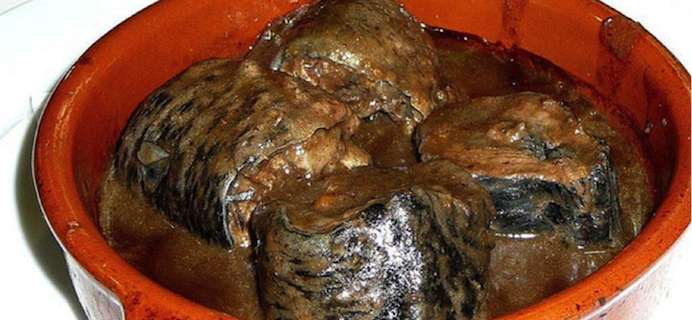 The finished dish is a rich, luxurious stew that balances the flavours of the lamprey with Bordeaux wine and fresh herbs. This dish is a regional speciality for special occasions, and the cooking process is best left to the experts.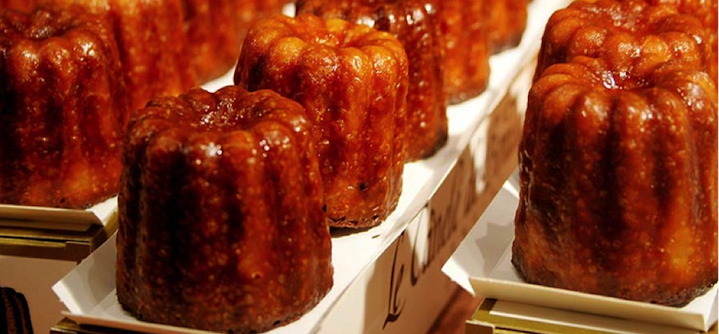 For something that you can enjoy every day (although not if you are trying to lose weight), canelés de Bordeaux are hard to beat. These little pastries have a soft and tender custard centre and a dark caramelized crust. The essential local complement to a cup of tea or coffee since the days of Louis XII, canelés are available all over the country, but they are best in Bordeaux.
Toulouse: Cassoulet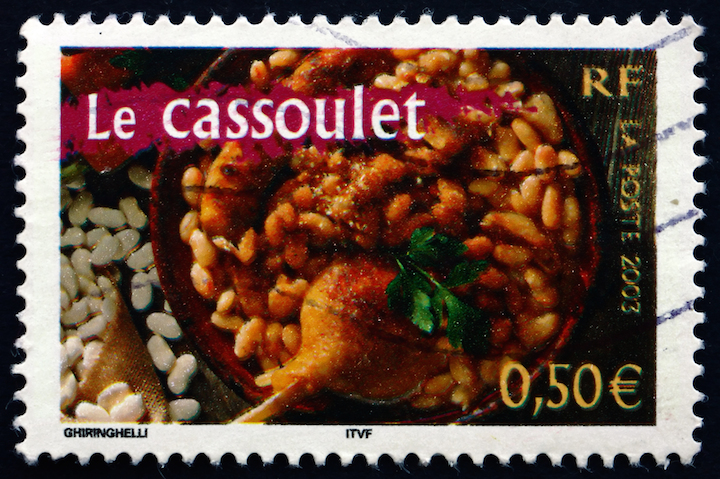 Every local chef has their own recipe for cassoulet, involving haricot beans and some combination of pork, duck confit, bacon, local sausage, mutton and goose fat confit. The most important ingredient of all is patience – this stew takes a long time to cook!
To make an authentic cassoulet, you need to cook it in a terracotta "cassole", made by the potters of Issel, a village located 8 km north of Castelnaudary.
Image credits: Quenelle by Fryke27 (CC BY-SA 3.0), Socca by Myrabella (CC BY-SA 3.0), Lamprea a la bordalesa by juantiagues (CC BY-SA 2.0), canelés by Robyn Lee (CC-BY-SA-2.5), shutterstock.