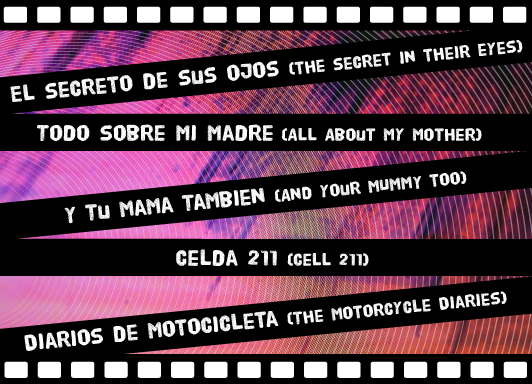 Spanish language cinema is going from strength to strength. Latin American countries are producing more movies than even before; Argentina and Mexico's scenes are particularly vibrant. Spanish directors like Pedro Almodóvar and Alejandro Amenábar are world-renowned.
Watching movies in Spanish is a great way to get a feel for a language. Here are five great Spanish language movies to get you started:
El secreto de sus ojos (The Secret in Their Eyes), Argentina 2009
Director:  Juan José Campanella
Retired legal attorney Benjamín Espósito (played by Ricardo Darín) is writing a book about the case of Liliana Coloto, a young woman murdered at home, which still haunts him twenty years after the event. While digging up the past, Espósito rediscovers passions that were long since forgotten, finds new information about the case and smokes a lot of cigarettes.
A wonderful Argentinean film about love, suffering and friendship.
Todo sobre mi madre (All About My Mother), Spain 1999
Director: Pedro Almodóvar
Almodóvar is regarded as one of the world's great directors. Todo Sobre mi Madre is the Oscar-winning story of a mother who sees her son die on his seventeenth birthday and the journey that this starts. At times gentle and at others stark, we follow Manuela (played by Cecilia Roth) as she tracks down her son's transvestite father and ends up working for her son's favourite actress.
Y Tu Mama Tambien, Mexico 2001
Director: Alfonso Cuaron
Teenagers Tenoch (played by Diego Luna) and Julio (Gael García Bernal) are abandoned by their girlfriends for the summer. When trying to impress the attractive wife of Tenoch's cousin (Maribel Verdú) they mention a road trip to a mythical beach. To their surprise, Luisa wants in and the journey begins.
As the trio travel across Mexico, they learn a lot about each other, about love and life.
Celda 211 (Cell 211), Spain 2009
Director: Daniel Monzón
Tough prison drama starring Luis Tosar as hardnut criminal Malamadre and Alberto Ammann as Juan Oliver, a prison guard who gets in over his head. When Olivier goes to check out his new workplace he gets caught up in a prison riot led by Malamadre. The riot grows larger than anyone expected and Olivier finds himself stuck in the middle of it.
At times a little far-fetched but gripping from start to finish, Celda 211 is an action-packed Spanish language thriller.
Diarios de motocicleta (The Motorcycle Diaries), Argentina 2004
Director: Walter Sales
The dramatisation of Ernesto "Che" Guevara's travel diary, starring Gael García Bernal as the young medical student who, with friend Alberto (played by Rodrigo De la Serna) travels across South America to discover his "tierra". A great adaptation of the seminal travel book which offers plenty of inspiration to explore Latin America for yourself.
The original book is a good read if you want to practise Spanish.