London is as varied as it is beautiful, but when a city has so many incredible boroughs and student residences to choose from – it can be intimidating to find the right one for you.
Luckily, today we're just going to focus on one option: Scape Shoreditch, and why it should be your next home away from home…
1- The facilities are first class
Fun surroundings and new friends are all important for a great stay, but they don't mean anything if you're not living in comfort; luckily Scape Shoreditch puts students' comfort at the head of everything!
You'll be able to live a life of independent, private luxury in their studio apartments, equipped with comfy beds, powerful WIFI, ensuite bathrooms and self-catered kitchens. The rest of the building has been designed to fit your after-school needs, whether that be winding down in the private on-site 24/7 gym, catching a movie in the HD cinema room, cramming for your exam in a study room or taking in the gorgeous views on the rooftop terrace!
2- It's in the student paradise of Shoreditch
Shoreditch is everything that a student neighbourhood should aspire towards: it's safe and filled with young people, trendy restaurants, and constant energetic nightlife.
The entertainment on offer in Shoreditch ranges from the classic pubs, clubs and sports that you'd expect from London, but also features some unique activities that you would likely never have imagined (but probably would love to try) Do you want to dance in a club filled to the brim with plastic balls? Shoreditch is the place to be! Do you want to play shuffleboard while sipping cocktails and eating pizza in the sun? You can in Shoreditch! Do you want to look at motorbikes, have lunch and get a haircut all in the same place? Oddly specific request, but Shoreditch has you covered!
Overall, Shoreditch is perfect for you to glimpse into a more down-to-earth, youthful side of London, and thanks to this residence's prime location, you'll have it all right on your doorstep!
With all these different options, you'll probably want a couple of new friends to explore them with – that's not a problem when…
3 – You'll make a bunch of new friends
You may have opted to travel alone to your new adventure, but that doesn't mean you have to stay alone!
Scape Shoreditch welcomes students both from abroad and from across Britain – while this will be great for your social life, it's also going to help your English in a way that no classroom can replicate. This is your chance to use everything you learned from the teacher in a real-world setting, as you have no choice but to interact in English.
If you're feeling shy, and all this talk of reaching out and making friends on your own is making you panic a little– don't worry! The residence also offers plenty of (optional!) social events that make the whole process of meeting your fellow students just a little less terrifying!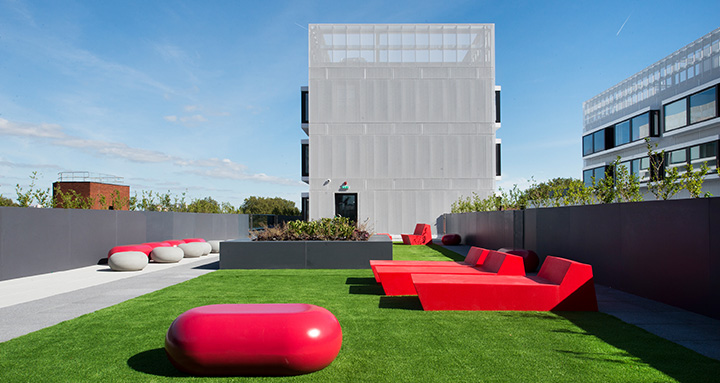 Make the right choice for your accommodation
It may be tempting to focus solely on choosing the right school when booking your programme, but making great memories comes from a lot more than just your school. A residence like Scape Shoreditch can make the difference between a good language programme and a great one!
Do you think Scape Shoreditch could be right for you? Get in contact and secure your space while they last!