The 2016 language schools of the year were revealed on October 6th at the ESL Language Travel Awards ceremony in Montreux, Switzerland. The ceremony awarded language schools in 9 categories covering all categories of a language trip abroad. The winners were chosen from more than 400 language schools around the world, based on the meticulous analysis of over 7,000 student satisfaction reviews and more than 180 ESL team member ratings.
We're pleased to present Hannah Lindsay, Group Sales and Marketing Director at St Giles in San Francisco, one of the two winners of the Teaching Programme of the Year 2016. We interviewed Hannah shortly after St Giles received this award!
A family-owned company, St Giles helps its students at its sunny San Francisco school to learn English quickly and effectively. Small classes and regular one-to-one feedback ensure personal attention with fast progress for students.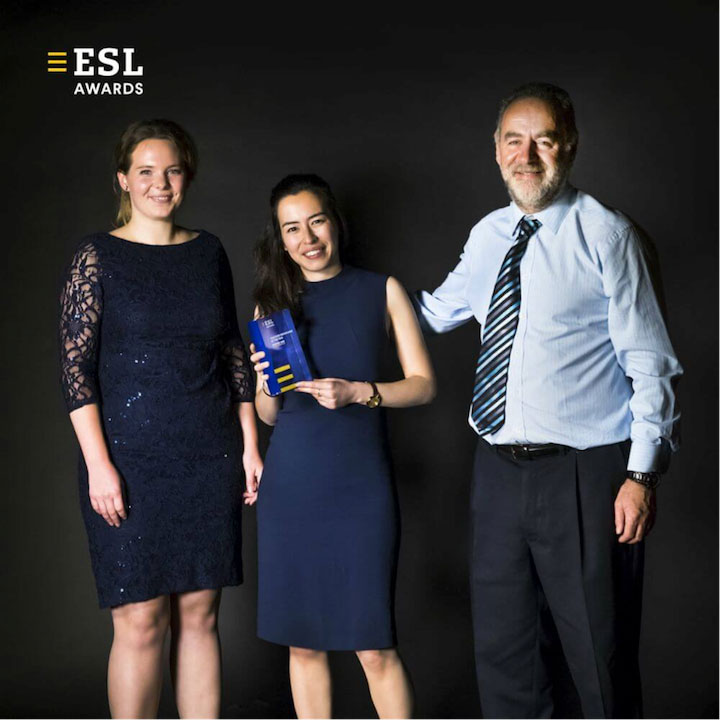 What does this ESL Language Travel Award mean for you?
St Giles are particularly proud to have been awarded the Teaching Programme of the Year and to have received the valued support of ESL clients and staff members. We are aware of the very stiff competition in this category and take particular pride in winning this very special award.
What do you think made you the Teaching Programme of the Year?
St Giles has always had a great reputation for excellent teaching ever since our establishment in 1955. My grandfather (the founder of St Giles) aimed to revolutionise the standard of English language teaching back in the 50s, even to the point of creating a special charity dedicated to this aim (The St Giles Educational Trust), and we're proud to have maintained the highest teaching standards within our schools to the current day. Teaching quality is so important to us that we run teacher training courses and have been able to train and develop many fantastic and talented teachers over the years.
What is the key to a good partnership and relationship with ESL?
We are delighted to be close partners with ESL. Our partnership relies on continuous communication as well as honesty and trust on both sides. St Giles and ESL are very well matched as organisations; ESL have a huge reach of students and St Giles is able to ensure that through offering a wide variety of courses and accommodation, all students have a suitable option with us for their English language learning needs. ESL approach selling St Giles with a great amount of enthusiasm and I'm always amazed by how well the ESL staff are trained on our centres!
In your opinion, what new trends have changed the language travel industry these past years?
We have seen a trend towards shorter bookings and a change in our key nationality mix, which may both attest to the stronger pound and dollar that we have seen over the past few years. However, it's been fantastic to see the pound weakening significantly recently which leads us to be optimistic for the year ahead!
Who are your typical students?
We are delighted to host a great variety of students every year and have welcomed clients from 7 to 80 years old, from over 100 different countries in 2016 alone! Although a great many students take part in our Junior Summer Courses and our Platinum Executive English courses, the majority of our students will be in their twenties and will take our General English programme.
Have you noticed a change these past years? 
The biggest changes have been in the nationality mix found at our centres, as mentioned before; however, the ages and preferred course of our students have remained constant. There has been a growing interest in our Family Courses which has been fantastic to see; we now run these courses in four locations in the UK & the USA, namely, London, Brighton, San Francisco and New York!
How do you ensure the satisfaction of your students?
It is of the upmost importance for our students to be satisfied with their stay at St Giles!
A key way in which we ensure satisfaction is through our Quality Management Project, which is conducted by carrying out one-to-one student feedback sessions, Exit Questionnaires, Focus Groups and a variety of Mystery Shopper exercises. We also ensure that our teachers are regularly observed and given constructive feedback by more experienced teachers in the group in order to ensure for continuous teacher development. Our student Exit Questionnaires showed that last year 97% of our students said that they would recommend St Giles – a truly fantastic result!
Which trends do you think will influence language teaching in the near future?
We feel that technology will be an increasingly important trend in the industry and we have, therefore, made sure that we have the latest learning technology in our centres (for example, Interactive Whiteboards in almost all of our classrooms) and have created an extensive e-learning resource available to all our students.
Click here to find out more about St Giles San Francisco and read firsthand student reviews. The City by the Bay is calling your name!