The 2016 language schools of the year were revealed on October 6th at the ESL Language Travel Awards ceremony in Montreux, Switzerland. The ceremony awarded language schools in 9 categories covering all categories of a language trip abroad. The winners were chosen from more than 400 language schools around the world, based on the meticulous analysis of over 7,000 student satisfaction reviews and more than 180 ESL team member ratings.
We spoke with Katya Bonello and Daniel Woodward from EC, the School Group of the Year 2016, whom we interviewed shortly after they received this award! What's more, EC also won the award for the CRS Champion of the Year 2016!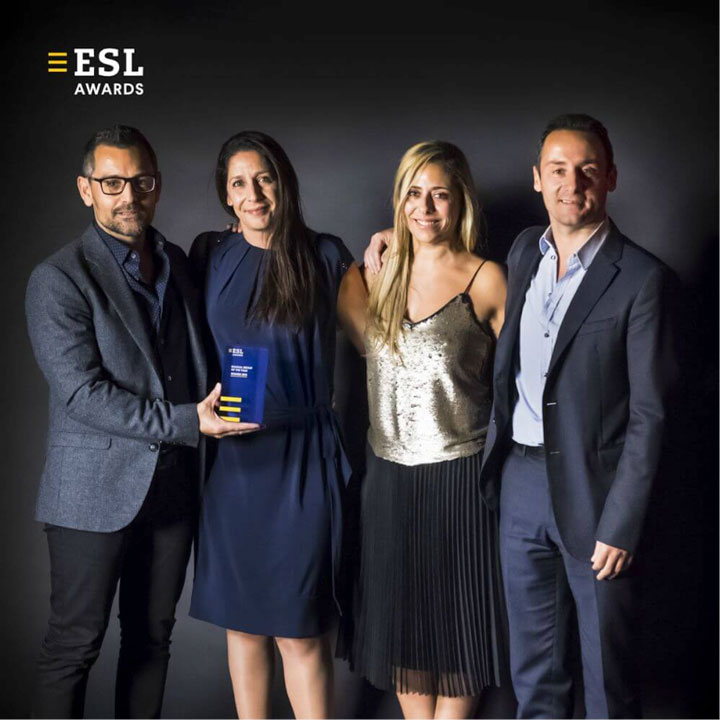 Having its roots in Malta, EC opened their first school 25 years ago. Today EC offers English language courses worldwide with schools in Malta, the USA, the UK, Canada and South Africa and with special 30+ courses in exciting cities.
What does this ESL Language Travel Award mean to you?
It's a huge achievement for us having competed with some of the best schools in the industry and voted for by industry experts such as ESL
What do you think made you the School Group of the Year?
I think it's a combination of factors including a good portfolio of courses and destinations that are easy to sell, efficient support and service from our team as well as an overall amazing collaboration and partnership with ESL that has grown over the years.
What is the key to a good partnership and relationship with ESL?
I believe that similar values and beliefs as well as mutual respect and a long journey travelled alongside each other is what makes the partnership so strong.
What are the main values that have brought your school group the success it has today?
Even though it might seem like we have grown quickly, our journey actually started 25 years ago and what we are today is the result of years and years of hard work as well as mistakes made and lessons learned. It's a family organisation who believes in its people being the best investment a company can make and has managed to carve out a name for itself on an international level despite coming from a very small country!
What do you think students expect from a school and their language stay in general?
Students expect to satisfy both their academic as well as their travel needs. I believe that both elements are part of the decision a student makes when choosing the destination and the school. Short-term students would seek to pack it all in and travelling is as important as the course itself. Longer-term students are seeking to improve their language skills and reach the minimum requirements if seeking to proceed into higher education, so academics are their priority.
In your opinion, which new trends have changed the language travel industry these past years?
The language travel industry is very volatile and is hugely dependant on exchange rates, socio-political as well as economic factors, visa regulations and local scholarships, so these have greatly determined the trends seen over the last few years. The strong dollar in recent months has seen an increase in demand for Canada over the US and the current political situation in the US is likely to continue this trend. Similarly, the recent strengthening of the pound has seen a deviation of business towards schools in Ireland and Malta, particularly in European markets.
What types of programmes/services do you think will be more attractive for students in the future?
We're seeing a growing demand in courses aimed at more restricted age groups such as 30+ and young adults as well as family programmes.
What is the biggest challenge you see for language schools in the future?
The biggest challenge is surviving an industry with a huge number of language schools and language agents competing in a space which is not necessarily growing, at least in certain markets. It's also a challenge to offer premium language courses when much focus is being given on price.
Learn more about all of EC's exciting language programmes around the world by clicking here.