The 2016 language schools of the year were revealed on October 6th at the ESL Language Travel Awards ceremony in Montreux, Switzerland. The ceremony awarded language schools in 9 categories covering all categories of a language trip abroad. The winners were chosen from more than 400 language schools around the world, based on the meticulous analysis of over 7,000 student satisfaction reviews and more than 180 ESL team member ratings.
We talked to Katya Bonello and Daniel Woodward from EC shortly after they received the award for School Group of the Year 2016 at the ESL Language Travel Awards. What's more, EC is also CSR Champion of the Year 2016! Especially designed by ESL, the unique CSR (Corporate Social Responsibility) self-assessment tool is helping our partner schools to be the best they can be. You can find all the details here.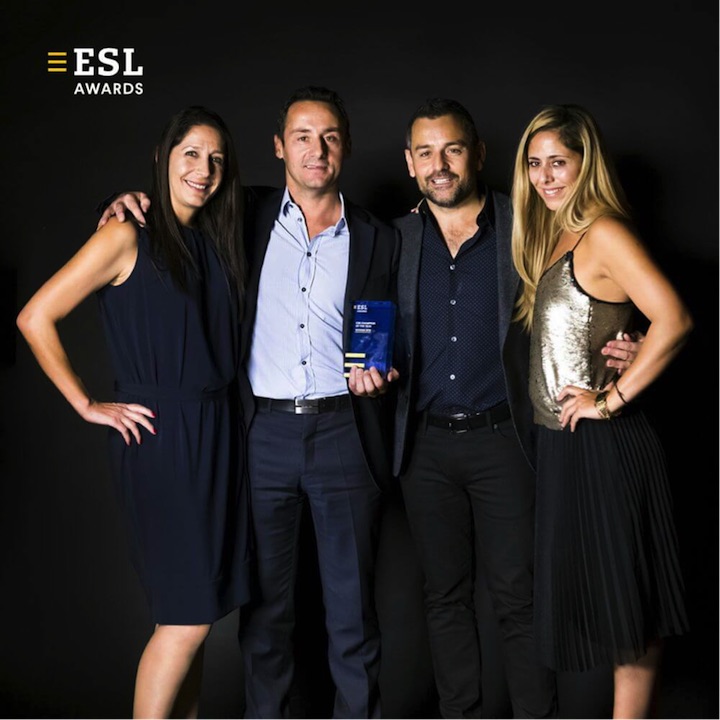 What does this ESL Language Travel Award mean to you?
In an industry which focuses on offering education to the world, it's amazing to be recognised for something other than our core business as this is an area very close to our hearts.
What do you think made you the CSR Champion of the Year?
Our own approach to CSR reflects ESL's own values, inasmuch as our strategy is built around the three pillars of environment, community and education. In each of these pillars we strive to deliver a broad range of initiatives that go beyond an approach that is just philanthropic in nature, but rather engages all of our stakeholders. For us this is the best possible outcome, as we are delivering on our primary purpose of helping students succeed in a global community, keeping our staff engaged and making the world a better place!
What is the key to a good partnership and relationship with ESL?
I believe that similar values and beliefs as well as mutual respect and a long journey travelled alongside each other is what makes the partnership so strong.
In your opinion, what new trends changed the Language Travel industry these past years?
Answered in School Group of the Year award interview sheet.
What do you think are the fundamental characteristics a language school should have?
A language school must have the right location, a welcoming environment and a good portfolio of course options offering academic excellence to begin with. A combination of good value for money as well as the right accommodation options are, of course, also important.
What types of programs/services do you think will be more attractive for students in the future?
Answered in School Group of the Year award interview sheet.
What was the biggest achievement in terms of CSR in your company in 2016?
In 2016, we partnered up with United World Schools, a charity that builds schools in post-conflict countries for children that would otherwise have no access to education. We funded the construction of a school in Ban Houy, Cambodia, for the 165+ children that live there, and will be shortly sending over a team of volunteers from our own staff to engage with the community and teach the children in the school.
What was the most important thing you kept in mind when setting up your CSR plan?
First and foremost, that we were doing it to build bridges – recognising the passion for giving back among our own staff and responding to that by implementing a CSR programme that reflected their own values; enabling our students to get involved in and engage with key issues related to CSR; build relations within the community, on a local and a global level. We set out with and remain true to the guiding principle that our CSR plan is not about PR – it's about people.
If you're curious about CSR or want to take a look at all of EC's amazing language programmes, make sure to check out the ESL website!