Of course English is the number 1 language that you need today in professional business life around the world. We at ESL Education are passionate about people, places and, of course, languages! But we don't just want you to enjoy the world of languages, we also need them on a daily basis. We talked with Laia, our Sales Office Manager in Barcelona, about her experiences.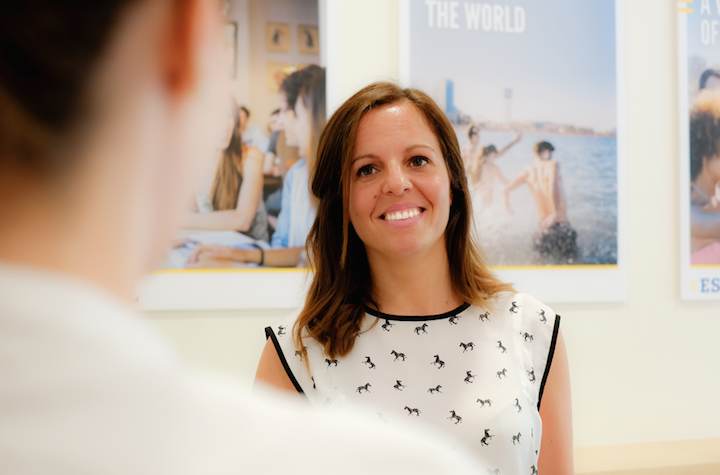 Have you had any funny or embarrassing experiences while studying a language?
In my first year in the UK, I had to complete an internship and I found a part-time job in an international travel agency, which I combined with my tourism studies at Bournemouth University. One day, a client came in to enquire about flights to Nice. However, to me the question sounded like "flights to Tunis", so I spent 10 minutes searching for the cheapest fare to Tunis and presented the quote to the client. He thought the flight was really expensive until we realised the confusion! Luckily he had the right English sense of humour and we just laughed heartily about it.
What is your mother tongue and which languages do you speak at work?
I'm bilingual, as my mother tongues are Catalan and Spanish. At work I speak Catalan and Spanish with my clients and colleagues at ESL. Besides that, I use English, as I have the Cambridge English Advanced certificate, to speak to partner schools all over the world and also with our staff. RecentIy I have also started using French to practice with some of my colleagues as we are a Swiss-French company and have many colleagues that come from French-speaking countries.
What would you not be able to do in your current position without the different languages you speak?
English is essential for my job because I need it in everyday situations, such as contacting our partner schools abroad. In addition to that, working for an international company also means that the training and internal correspondence is in English.
With the addition of new colleagues in our Barcelona head office and having many colleagues working in the French part of Switzerland I am trying to give boost my French to be able to speak it fluently with them.
It must be interesting to work in an international company with colleagues from nine different countries…
It's quite funny to see that every one of us have cultural differences in terms of break times for lunch. For example, most of our colleagues take their lunch break at 12.20 or 1pm and just have a light lunch with a salad or sandwich, whilst Spanish people are used to having late lunches –around 2pm or even 3pm– and enjoy a heavy meal that lets us hold up dinner till 9pm.
Laia López has been a Sales Office Manager at ESL Education for nearly 5 years. She speaks Spanish, Catalan and English and is studying French. She moved to Bournemouth at the age of 20, during her tourism studies, for an Erasmus programme and ended up staying 4 years in the UK. After finishing her studies in Bournemouth, she worked for a travel agency and an English school in Bournemouth, where she realised that she most enjoyed working with international students. Although she is a real Catalonian with a passion for sun, heat and the Spanish way of life, London is, alongside Barcelona, one of her favourite places to live. The favourite expression that she learnt during her time in England is "best thing since sliced bread" which means that something is a good invention or a useful innovation.