If you are wondering whether to book your language course through an agency like ESL or directly with a language school, take five minutes to read this article. A slightly deeper understanding of how study abroad works should help you make up your mind.
The internet has caused big changes in the world of international education. When it comes to booking a language study trip abroad, some people are tempted to find a school through an agency like ESL and then book directly with the school, in the belief that this represents better value. We believe the opposite is true: booking with a good agency gives you a superior service, better value and more protection for exactly the same price.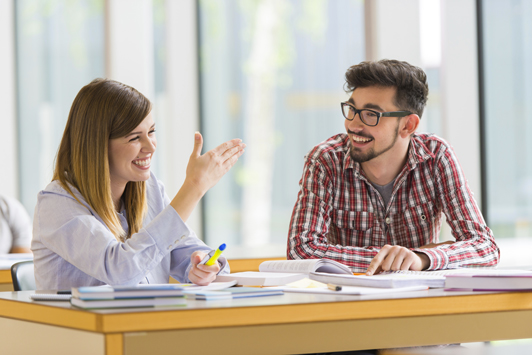 So should you book with an agency or directly with the school?
Booking through an agency makes you more valuable to the schools than students who book directly with them. If this sounds counterintuitive, hear us out!
Value
You won't pay a penny more booking with ESL than you would pay booking directly with the school.
The growth of our agency has coincided with the growth of the internet. Before the web, many study abroad agencies would mark up the prices of language schools to increase their profit margins. From the start, we have always had a transparent policy and offered the original prices of our partner schools, and the option to pay in a currency of your choice.
When you are searching for a course with an agency, be sure to check that you are getting the original price.
Professionalism
Agency staff receive extensive training and know the various locations and courses intimately. This means they can explain the advantages and disadvantages of each destination, school and accommodation option (the last is much more important than you might expect). They will also help you with any necessary visa application, which varies depending on your chosen destination. Different programmes are right for different people and agency staff have an overview of everything that is on offer. We regularly visit partner schools around the world.
Once you have arrived, if you feel like you want to change something, whether your location, school, accommodation or course, an agency can arrange this for you… in your own language. Without this support, it is much easier to feel stranded (character building that may be, but not much fun!). A good agency will help you with this process, free of charge and priority assistance.
Bear in mind that a larger agency like ESL can provide a significant percentage of a school's students. This means that schools are obliged to listen to us and react quickly to any concerns or queries we have. Booking with an agency means you are supported at all times and your voice will be heard first. The strong relationship between agency and school ensures you will be treated as the VIP you are!
Of course, the large majority of courses we arrange go smoothly because we go out of our way to find the right course and destination for each student, but if anything does need urgent attention, booking with an agency offers you…
Protection
In the event that anything happens to you when you are away, a quality agency is a multilingual reference point you can trust. We are here for anything that needs communication. We also offer protection in unforeseen circumstances. Here are a couple of examples:
When the Eyjafjallajökull volcano eruptions of 2010 grounded aeroplanes across Europe, we could offer flexibility for students who were unable to travel. For students who were already on site, this included immediate extension of their accommodation after their courses finished, something that is not usually quickly done directly with the schools.
For students who had booked with us but could not travel to start their courses, ESL negotiated with schools and the courses were rearranged, with ESL managing the logistics. Corporate terms and conditions often include a sentence disowning liability in the event of an "Act of God" but ESL's students were protected and dealt with as a priority by schools. The volume of students we send to schools put ESL and our students in a position of strength; students who booked directly with schools were effectively "on their own".
A couple of years earlier, an extended public strike had paralyzed one of our popular destinations for months. A number of language schools in the city actually closed as agencies would not send new students to a city that wasn't functioning properly. With schools closing their doors or offering reduced services, ESL stepped in to relocate our students to schools that could offer a quality experience. Again, students who had booked directly with the schools did not have this support.
You are free to book your language course however you wish, but we believe you will not find better value than booking with an experienced study abroad agency like ESL.