The sparkling skyscrapers in the Pudong district mark the urban landscape, and the charm of the ancient Concession Française blends with the exotic smells in the old town of Qibao. The Chinese metropolis of Shanghai is waiting for you to discover it and it will fascinate you at first glance, but you'll have to be careful: always pay attention because if you don't, a normal pedestrian crossing could be very dangerous, as drivers users don't really distinguish between red and green lights…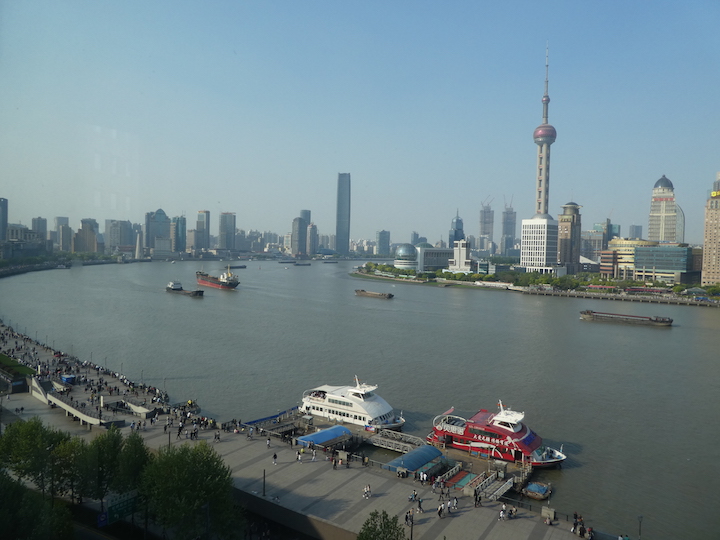 During your trip to Shanghai, your culture shock will definitely be less strong than if you went to any other Chinese city, because Shanghai is very cosmopolitan and well organised. However, culture shock will hit you when you first eat at a local restaurant. The chewing noises and burps are clearly audible and seem, at least in the beginning, quite inappropriate. Then, after the explanation provided by one of the clients, the situation became clear: these noises are not rude – quite the opposite! The more noise you make while eating, the more you appreciate the dish. This is why restaurant owners consider these noises a compliment to their cuisine.
For locals, going to a restaurant is always a greatly appreciated attraction. There is a wide culinary offer coming from the different Chinese provinces but also from the rest of the world, for any price range. This is why Shanghai is often considered the "Paris of the Orient"! The city has many attractive features, from 13-floor shopping centres  (like the Super Brand Mall) to legendary nightlife; your days and nights will be filled with endless possibilities.
The centre of Shanghai has approximately 15 million inhabitants. Space is scarce and traffic jams are part of the everyday experience, but with a bit of patience, you'll enjoy Shanghai and your language stay will be unforgettable! The underground train network is one of the largest in the world and is still growing at a rapid pace; this is why discovering the different parts of the city is pretty easy. Additionally, bicycles in Shanghai are more and more important – you can also rent them through a mobile app. The streets are mostly filled with the flashing-yellow Ofe Bikes.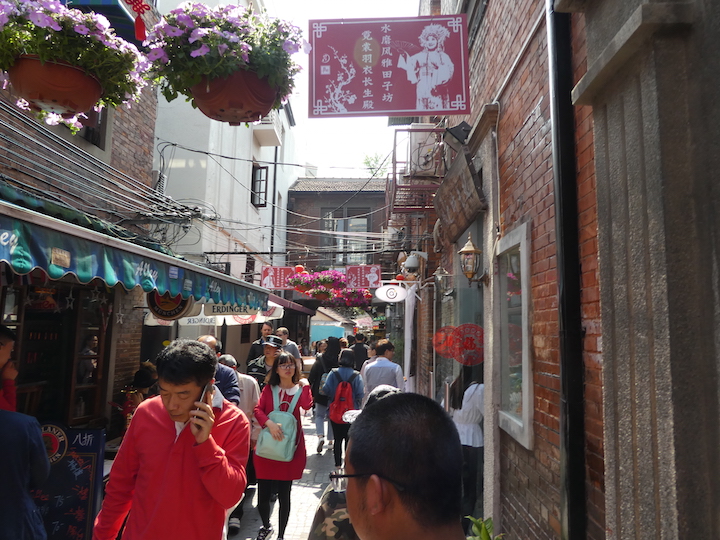 A language stay in Shanghai with ESL
No other language in the world has so many speakers. For approximately one-fifth of the global population, Chinese is a native language. The massive development of the Chinese economy magnifies the importance of Chinese on an international level. Our partner school Mandarin House is located in the heart of Shanghai, close to a metro station. Its 22 classrooms are modern and the academic level is excellent. It's not a coincidence that the Mandarin House was awarded by the STM Magazine, or that the school is a market leader in the field of Business Language Training! It's true, if you want to learn Chinese you need strong motivation and dedication – but the language is charming and sometimes, easier than expected. For example: this Chinese character means "tree" 木, this one means "small forest" 林 (so, two trees) and this one means "big forest" 森 (three trees). To be able to read a newspaper, you'll need a dictionary of about 2,000 characters. The path isn't easy, it's true, but having Chinese skills is today a considerable asset if you want to work in the international market.
My 5 personal tips
Qibao Old Street
About 40 minutes from the Bund (a boulevard dotted with luxurious buildings), on Qibao Old Street, this Chinese street-food paradise offers many delicacies, which are often hard to identify. It's noisy, often hectic, and you'll smell a different, unknown scent at every corner. The strong smell of stinky tofu is particularly difficult to stand. Yet, I was brave and tried this traditional dish, and I can say that its taste is much better than its smell!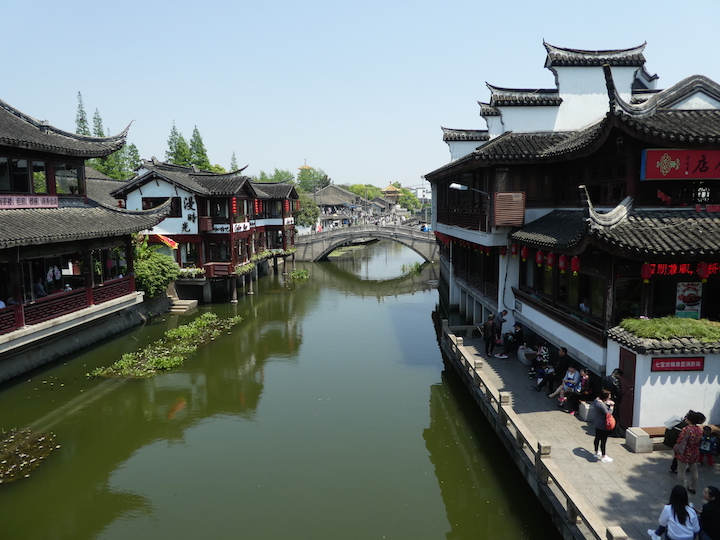 Rambler Bar, Concession Française
In the 19th century, many foreigners came to Shanghai, including French traders, who built the Concession Française in a traditional French architectural style. This area is amazingly different from the surrounding urban landscape, which is full of tall skyscrapers. At weekends and during bank holidays, alleys, shops, restaurants and bars are full of people. By chance, I found the Rambler Bar, a peaceful oasis in the middle of this chaos. I liked it because of its creative decoration and wide choice of drinks. Try the mojitos – they are amazing!
Restaurant Yang' s Fry-Dumpling, Wujiang Road
Fried dumplings are a must for any traveller in China. I ate the best ones at Yang's restaurant, which is discreetly located in a food court offering a wide choice of affordable dumplings (for only €5-€7, you'll be full!). Be careful while you eat, because dumplings usually contain a very hot broth, so swallowing the whole dumpling in one go is not recommended…
M1nt Nightclub Shanghai
Shanghai is famous for its nightlife! The legendary M1nt nightclub is located on the 24th floor of a tall building and offers an incredible view on the Bund. It's pretty expensive, but the club was awarded "Club of the Year" multiple times. Excellent music, great cocktails and a classy interior – including a 17-metre-long shark aquarium! – will make your night unforgettable.
Fuxing Park
A vibrant city like Shanghai is obviously very noisy and frenetic – one more reason to visit this oasis of calm, Fuxing Park. It's huge, and everywhere you will see old Chinese people practising all kinds of sport. It's the ideal spot to renew your energies before going back to your new urban adventures!