A few months ago, we started a series of travel reports by Alexander, our colleague from Zurich. After his articles about fascinating places such as Jordan, Malta and Shanghai, today he takes us to Russia for his language stay in St Petersburg.
Like with any other country and community that is different from ours, clichés and prejudices also exist for Russia. Information provided by the media over the past few months has certainly not helped popular opinion about Russia. Before each departure to a new country, I always try to ignore these kinds of stories and face my new adventure with an open mind and childlike curiosity, in order to make up my own mind.
St Petersburg is bursting with life, and every corner boasts wonderful buildings to impress visitors. Sites such as the Church of the Saviour on Spilled Blood or the Hermitage, one of the biggest and most important art museums in the world, are fabulous. This city definitely doesn't lack cultural activities! But St Petersburg is not only for culture lovers – night owls will also enjoy it a lot!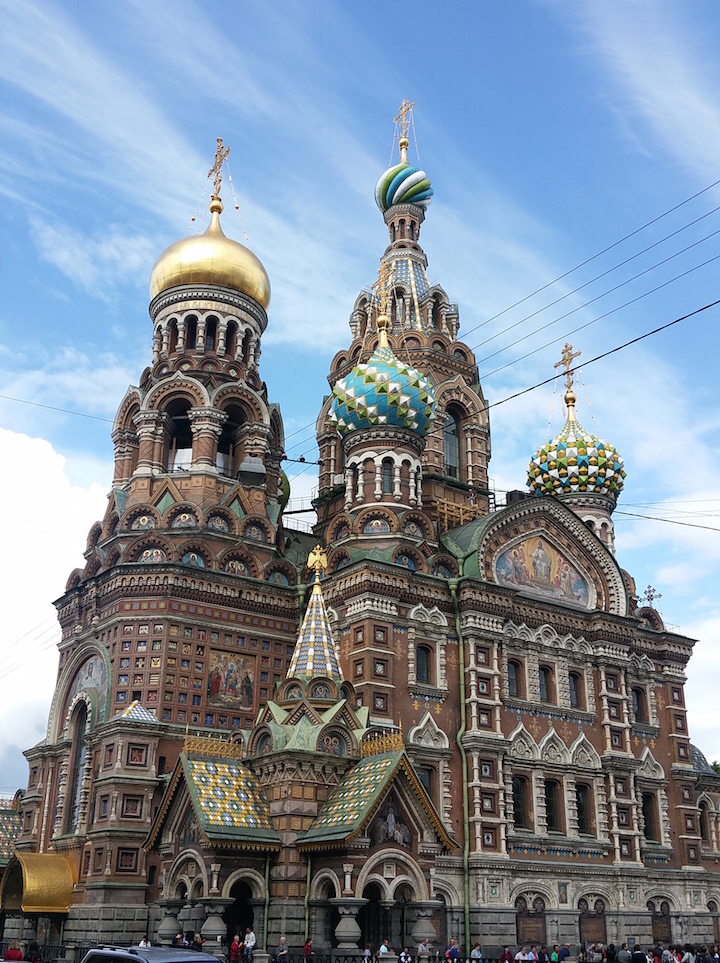 Compared to Moscow, more pompous and impressive, the city on the Newa River is much more relaxed and friendly. In addition to the architectural masterpieces you'll see everywhere, its inhabitants contribute to the nice atmosphere. To start a conversation with them is not hard, and even if your Russian is poor, their helpfulness is quite impressive.
I admit it, applying for a visa is a bit annoying, and the media will give you tons of reasons why not to visit Russia. But after my language stay in St Petersburg I can safely say that this city is definitely worth a visit, and it's one of the 5 best cities I've ever visited.
My language stay in St Petersburg
A former student of our partner school Liden & Denz said: "Learning Russian is like jumping off a cliff with no parachute: you enter a new world with its own melody, rhythm, heroes, history and culture". Not only does Liden & Denz value the participants' language progress, but it also helps them get familiar with the history and culture of the biggest country in the world. For this reason, the school organises multiple excursions and activities.
The language school is ideally located a few minutes' walk from the famous Newski-Prospekt Boulevard. Liden & Denz offers a wide range of courses: General Russian, Business Russian, combined courses of Russian language and literature… Based on my personal experience, I recommend the visitors get familiar with the Cyrillic alphabet before their departure, as it helps quite a lot in the beginning.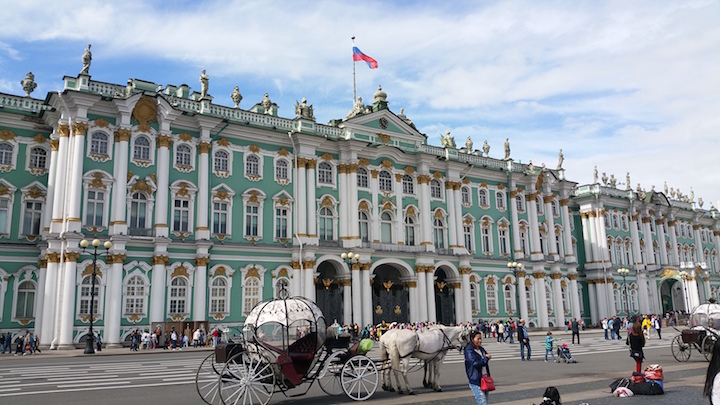 My 5 personal tips
The Palace Bridge at night
Without any doubt, the Palace Bridge is the most famous bridge in St Petersburg. It links the city centre to Vassilievski Island. Between mid-May and mid-November, at night, you can admire a very special show: the bridge opens and dozens of boats parade to the sound of classical music – an enchanting atmosphere! To see this unique show, the best way is to go to the south shore of Newa River.
St Petersburg's metro
Usually, I am not a big fan of the metro, but in St Petersburg, I loved it, as each station is a unique masterpiece. It's a constant surprise! One of my favourite stations was Avtovo, on the red line. The incredible ceiling lights, combined with the nicely decorated columns, really amazed me – I felt like I was in an ancient ballroom! Luckily, since 2009, you're allowed to take pictures of the different metro stations!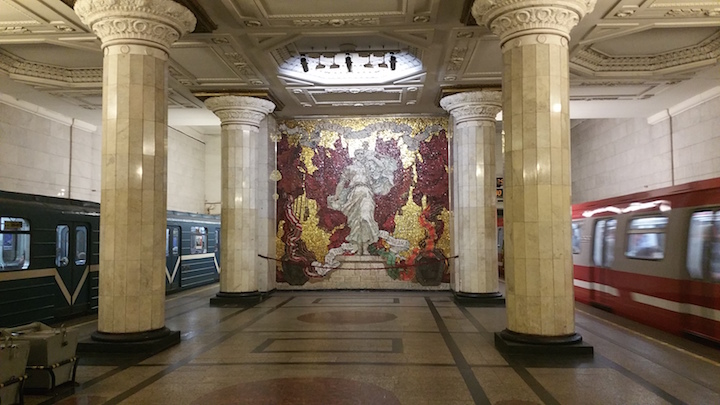 Bashni, a live music club
In the southern neighbourhoods of the city, hidden behind an old and insignificant industrial facility, you'll find a place for insiders. During the day, they serve typical Russian food, and at weekends, live music is played in a former gas holder. Blues and rock lovers will be satisfied, as they will have extraordinary experiences here! A unique location, friendly people (mostly locals) and a creatively decorated club… I can only recommend this place!
The Peterhof Palace
It's not without reason that the Peterhof Palace is one of the most popular and impressive attractions in Russia. The beauty of this palace located on the Gulf of Finland is hard to describe. The view of the water fountains from the waterfall, the dozens of golden statues and, in the background, this extraordinary castle… It looks like a fairy tale. A relaxing walk in the huge park is the perfect conclusion for this fabulous excursion. The Peterhof Palace is about 30 km south of the city centre and can be reached also by boat in less than 40 minutes.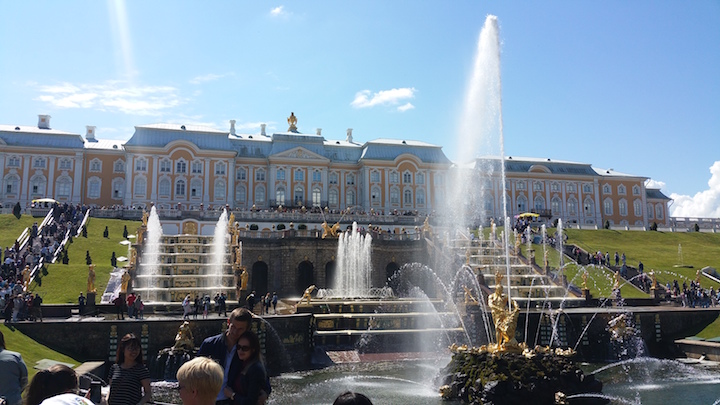 Moskwa restaurant
When you walk into this restaurant in the city centre, you'll feel at home straightaway. Here, I had my first meal in the land of Russia, and it was one of the best ones. The Russian soup, borscht, was excellent and almost filled me up, but I couldn't resist the delicious Manti (a kind of ravioli filled with minced meat and lentils) dipped in sour cream. The restaurant has a terrace with an amazing view, but usually tables there need to be reserved in advance. If you are on a diet, try to avoid the desserts windows, which are incredibly displayed. Resisting these delicacies is an act of bravery!
Discover St Petersburg, its unrivalled treasures and hidden corners, and say goodbye to your preconceived notions about Russia! This enormous country is well worth getting to know.