"I never thought I would go back to school at 50 years old, but in August, with ESL, I went to Australia for 3 weeks with my daughter and my niece…" This Facebook comment – posted by Monica, 50 years old, from Italian-speaking Switzerland – expresses all her enthusiasm and surprise when she realised that there is no age limit for starting a new adventure!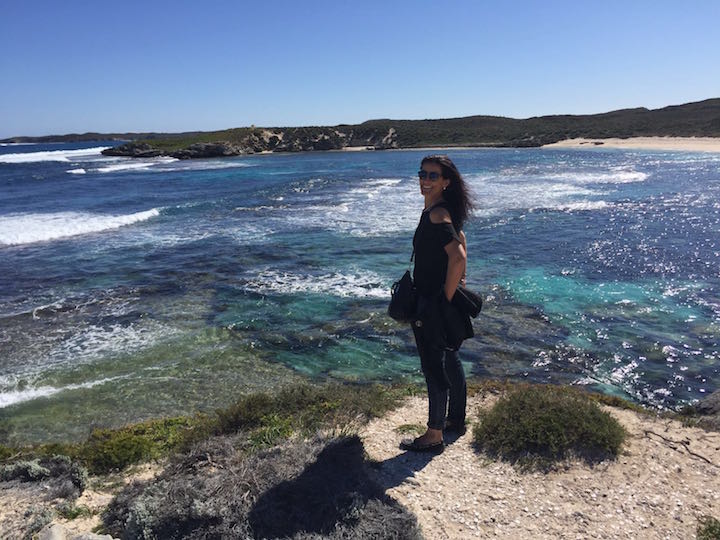 Monica, first of all, tell us how you came up with the idea of going on a language trip to Australia with your daughter and your niece. What are the reasons that pushed you, Lilia and Martina to choose this amazing destination?
My daughter Lilia was the first one who decided to go on a language trip abroad. After her graduation, she told us about her desire to take a sabbatical year to learn a foreign language before going to university in German-speaking Switzerland. My husband and I talked about it and decided that this kind of experience would be very good for her education. My niece Martina also liked the idea of the trip, and decided to share the experience with Lilia. While the girls were discussing the destination, the course and the accommodation options, I realised that I had never done anything like that in my life. And the more I thought about it, the more I could hear a little voice in my head saying, "Why not?"
I talked about it with my family and it was nice to see how everyone supported me; they told me to take this chance and go with the girls.
As for the destination, the girls were torn between Australia and Canada, but in the end they chose Australia, mainly because of the climate.
Why did you choose a language stay instead of a normal holiday in Australia?
I wasn't intrigued by the holiday itself, but rather by the idea of going back to school with my daughter and niece. It was more about experiencing daily life with other students, which meant homework, days at the beach and nights out…special moments that made me very happy and helped me improve my English. And of course, the charm of Australia made everything better.
Did your timetable coincide with Lilia's and Martina's?
Not at all. When we arrived at Lexis, the language school in Perth, we took an English entry test to be placed in the right classes. Lilia was advanced (preparation for the C2 exam), I was a B2 and Martina was elementary, so we were all in different classes and we would see each other during breaks or lunch time.
Tell us about your free time: did you do any particular activity or excursion in Perth or in the surroundings that you would like to talk about?  
Australia is so big that the sights to see are unlimited… As I only had 3 weeks, I tried to see all the most interesting things. First of all, I wanted to discover the local fauna, so I went to the Caversham Wildlife Park, which is ideal if you want to see and touch typical Australian animals, such as kangaroos, koalas or wombats. The park is beautiful and has plenty of species.
I really liked the weekly market in Fremantle's port (that's a city at the mouth of the Swan River, a few kilometres south of Perth). It has more than 150 stands, all located in a very striking Victorian building. You can find anything you want: food, clothing, accessories, arts & crafts, antiques, etc.
The most beautiful place I've seen is Rottnest Island, which is located 19 km off Australia's west coast, at the same latitude as Fremantle. This island is very special for Western Australia. The typical animal here is called a "quokka" and it only lives here; it looks like a small kangaroo. You can also find reptiles and amphibians, birds of all types and a rich marine environment, including tropical fish, sea lions and starfish. Rottnest Island is a natural reserve that protects different kinds of spectacular plants and animals. The girls and I visited the island by bike, went snorkeling on the most beautiful beaches and had a wonderful day.
Lilia and Martina spent a total of 4 months in Australia, so they had plenty of other experiences.
How did you like the course and the activities organised by the school?
Everything was very good. My English teacher was kind and was able to facilitate interaction between people from different countries, with different languages and cultural backgrounds. The atmosphere in the class was always relaxed and joyful. The pace was pretty intense, but we also had pleasant and instructive discussions. Leisure activities were perfect to practise the language and improve our skills.
Would have you had this experience on your own?
I don't think so. My daughter pushed me to share this experience with her, and, now that I have done it, I can say that this was a fantastic adventure and really special for both my daughter and myself.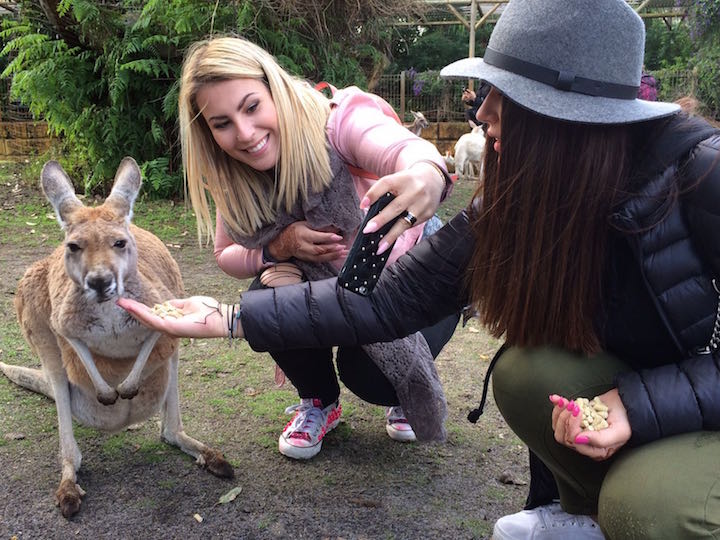 Lilia and Martina, how did the months without Monica go? You stayed in Perth from August until December – what did you think of Australia?
Lilia – The fact that my mum was with us the first few weeks in Australia was very reassuring, but, as she said before, the main reason she came with us was her desire to have an experience she had never had before. We spent 3 intense weeks together and it was good to learn together and share the fun. Once she left, nothing really changed. Her presence didn't stop us in any way, and she even came clubbing with us a few times! It all depends on how you approach this kind of experience.
Over the months in Perth we had the chance to travel a lot on the west coast and then, thanks to a girl who worked in a travel agency (partner of Lexis English), we organised a trip for November, after the Cambridge exam. The trip on the east coast was the best part of my Australian experience. We met many people from around the world, who were in Australia for different reasons, and it was good to share our journey with them and support each other.
Australia has a lot to offer and I am so grateful that my parents gave me the chance to improve my English and travel through this wonderful country.
Martina – It was my first trip far from home and I was a bit worried, both about the long flight and about the unknown. Without my cousin Lilia I would have never gone to Australia. When my aunt Monica decided to come with us, I felt reassured. I was sad when she left, but at that point we had settled in and we were ready to face the experience on our own. It was an incredible trip and I loved every single part of it, from the lovely people to the beautiful landscapes.
The question arises: after such a long language course, how is your English now?
Lilia – When I arrived to Australia, my English level was already pretty good; my strong motivation together with the awareness of how lucky I was to be able to have such an experience in Australia, pushed me to reach the C2 level in only 3 months, and to pass the Cambridge C2 Proficiency exam.
Martina – I had an elementary level and I quickly learned how to communicate with my schoolmates and family. The teaching method at Lexis allowed me to achieve a good understanding of English basics. Now I just have to force myself to keep improving!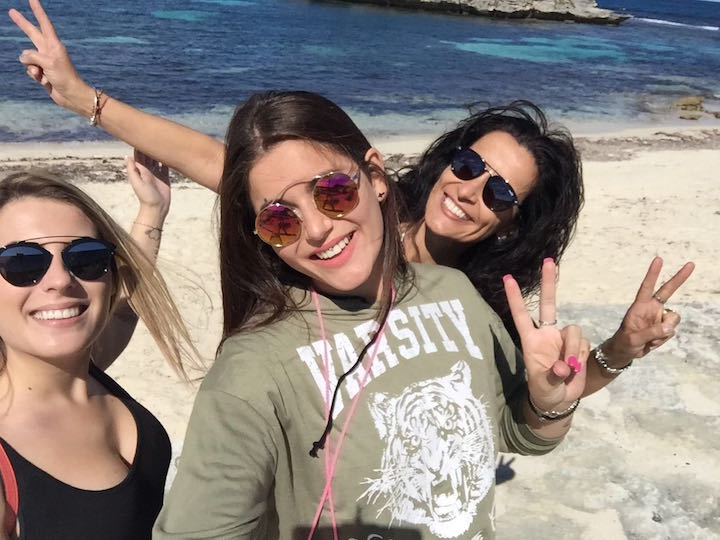 A question for the 3 of you: what aspects of this experience have impressed you the most?
Monica – What I loved the most is the fact that I could have a special experience with my daughter, my niece and many other young people. I had the chance to learn new things and rekindle my enthusiasm, and this reminded me that it's never too late for learning.
Lilia – As I said before, the trip on the east coast was very special. Without Martina it wouldn't have been the same though; I wouldn't have enjoyed these months in the same way. And let me add that I also really liked the weeks with my mum! It was good to see how happy she was about going back to school and sharing some good times with us.
Martina – I agree with Lilia: the trip on the east coast was really special, and, without her, I couldn't have done it. I will always cherish the amazing memories of this experience with Lilia and my aunt; sharing those special days brought us even closer! What impressed me the most? The fact that I was able to overcome my fears and go, that I learned so much and that I experienced something very different and important.
And finally, would you like to recommend this "alternative experience" to our future students?
Monica – I wish that all the mums out there could be able to share a similar experience with their children. I will always cherish beautiful memories of these weeks in Australia.
Lilia – Of course! Apart from the personal growth, this kind of experience – shared, in my case, with my cousin, who is like a sister to me, and with my mum – helps to strengthen relationships and create unique and lasting memories.
Martina – I agree!