We talked to Thomas Sautebin, aka Thomas Michel Christe, who came back to his home country Switzerland for the end-of-year celebrations. He took the opportunity to say hello to our team in the Lausanne drop-in office after a language course in the USA that started his promising career in the fashion and movie industry, with Los Angeles as a backdrop.
Thomas Sautebin (dressed by Mthemovement clothes) with Caroline Seydoux, Claudio Seri, Aremis Ueter and Kevin Donnet from the ESL team in Lausanne
ESL: How would you sum up the year 2012?
TS: It was a pretty cool year, I would say, a year of "holiday". My initial project was to take a 9-month language course in Los Angeles and take an English certificate. But after 6 or 7 months there, my life took a new turn as I was offered the opportunity to start a career as an actor and model in the USA.
ESL: How will you celebrate the Christmas and New Year's celebrations?
TS: First of all, I would like to spend quality time with my family while I'm in Switzerland, as I haven't seen them a lot in the past few months. Several trips around the world await me in early 2013, and then I'll be back in LA for a private fashion event with Chaka Khan in early February. I am very happy I was selected to take part in it.
ESL: What motivated you to take a language course abroad?
TS: After working 6 years in the watchmaking business and perfecting my German during this time, I wanted to improve my level of English and decided to go on a language study trip abroad. My primary goal was to improve my English in order to be able use it in my work. Besides, English is an international language so I thought it could be useful to me, on a personal level, when I travel.
Taking a language course abroad seemed to be a good solution because I wanted to be immersed in the language and surrounded by people who would be able to answer my questions and have the qualifications to teach me the language in the best conditions.
ESL: How did you plan your trip?
TS: I did some research on the internet and came across ESL, which was at the top of the search results. I read that it was a Swiss company and it gave me confidence. After examining the state of my finances, I contacted the Lausanne drop-in office in order to organise my stay.
ESL: How and why did you choose LA?
TS: I wanted to take a language course in the USA because I wanted to enjoy nice weather and at that time, I thought to myself, it rains too much in Britain and it's winter in Australia. But I hadn't made up my mind and the ESL travel consultant helped me compare several destinations. Boston, New York and Miami appealed to me but I had already been on the East coast. There were also San Francisco and San Diego but I chose LA.
As much before my departure as during my stay, ESL was always there to answer all of my questions and look after my needs. Our relations were always very pleasant and I am very satisfied with the way it all worked out. I would like to thank ESL for the assistance provided during the whole duration of my stay. I can only recommend anyone to travel with ESL.
ESL: Thank you! We're glad you enjoyed it! What were your first impressions when you arrived in LA?
TS: The first thing that struck me was the size of the city. I felt a bit lost, but this is also part of the experience. My arrival at the airport went very well, I was immediately welcomed by a driver who took me to my accommodation. The journey allowed me to discover the cityscape and realise where I was.
At first, I thought the city wasn't too clean, but I quickly put things into perspective, considering the city has more denizens than the entire country of Switzerland. With such a concentration of people, you can't expect to find the same hygiene standards as in Switzerland.
Other than that, people are very open-minded; I found them to be very respectful of others, less mocking, which appealed to me.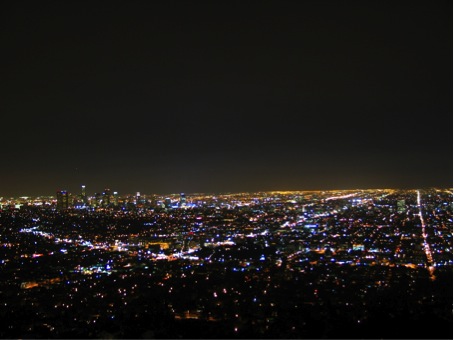 ESL : Where were you staying ? How did it contribute to your immersion in local life?
TS: I already knew where I was going to live before I arrived in LA because ESL had sent me details about my host family a few weeks before my departure, including their name, address, interests, etc. so I could explore the area with Street View. The Fairfax District is a quiet and residential area, which happens to be Los Angeles' Jewish neighbourhood. I enjoyed discovering this community.
I received a great welcome from my host family and I was happy to see that I had a big bedroom all to myself. Owing to their Jewish origins, I could discover all sorts of traditions, recipes and customs which I didn't know about and it was great.
ESL : How did your success story start?
TS: I was scouted in the streets and offered the chance to take part in the casting for the Los Angeles Fashion Week, which was to begin a few days later. I was selected for the show and this was a great springboard for me, even though all I wanted was to make the most of this experience and enjoy it. This was the triggering event and I'm still working with people I met there.
I also had a great encounter in a fast food restaurant one day. An actor who had been in several TV shows approached me, we got to know each other and became friends. He took me to many select parties, where I could meet celebrities and people in the industry and extend my network. I even met the Black Eyed Peas.
ESL: What can you do to stand out and make new contacts afterwards? Do you have to accept everything you're offered?
TS: I really think that your personality is your best asset to stand out. The goal is to draw the attention on yourself while remaining natural – because playing the clown is not going to get you anywhere! As far as I'm concerned, everything happened very naturally, I was looking forward to meeting nice people, and not necessarily for business.
I had planned my budget before my stay and I stuck to it once on site, so I wasn't tempted to accept any project I was offered, as some of us have to in order to earn a living. I get varied job offers, but I choose according to my artistic and personal interests.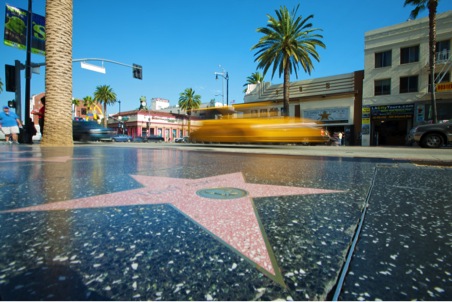 ESL: Were you already familiar with the art world before entering it?
TS: My uncle is a stage director and gave me the chance to direct a few things with him. But I had never worked in the movie industry. I have always been good at acting though, especially when I play football! (laughter) So I already knew how to approach the job even though it was a whole new world to me!
ESL: What was the most memorable night you spent in L.A.?
TS: I have a great memory of a night I spent in famous Playboy Mansion, which is particularly difficult to get into but where the food is excellent.
These parties are incredible and you should know that most of them are charity events, which I find pretty cool.
ESL: Whom would you like to meet in Los Angeles?
TS: I'm not looking to meet anyone in particular, even though it's always a thrill to see a TV or movie celebrity in real. Just like crossing paths with a celebrity while they are jogging on the beach…
Seriously, the best thing that happened to me during this trip was that I met myself. I learnt to get to know myself and discovered where I wanted to go in life, even though I had already had this chance before, during previous trips with my family.
ESL: How is your English?
TS: My level of English is now good enough for a career in the industry. My Swiss German grandmother has been living in the French-speaking part of Switzerland for 25 years: she's still learning new things everyday and still hasn't lost her accent! So I think it will be the same for me and I'm looking forward to learning more and more everyday.
ESL: Do you think taking a language course abroad was the right solution for you?
TS: ESL's support during the organisation of my stay was a real plus. The best way to learn a language is certainly to take a course abroad and for me now, it would be to take private lessons, but I'm happy I had the chance to meet other people from other cultures by attending English classes in Los Angeles.
Besides, even though these events upset my daily life in LA, I still completed the exam preparation course I was taking and passed the exam. I wanted to finish what I had started.
Thomas Sautebin in Los Angeles
ESL: What are your resolutions and wishes for 2013?
TS: I will try to continue to give my best and keep my feet on the ground. And satisfy the people who trust me.
Hopefully, lady luck will continue to be with me and other opportunities will arise. I wish to orient my career towards acting even though I also like being a model. I would be very happy to play a recurring or not-too-short role in a film.
ESL: Has the way people look at you in Switzerland changed since you came back?
TS: An article published in the 20 minutes newspaper while I was still in Los Angeles created a buzz and caused euphoria as much as jealousy. But I receive a lot of support from my family and friends.
ESL: Since you returned, have you received any opportunities to work here?
TS: It's not that I'm not trying to extend my activities in Switzerland, but the movie and fashion industries are not very present here. Remember that there are language barriers here, so it is not easy to break through. For the moment, I have a manager and an agent in the USA.
ESL: Any advice for those who wish to take a language course abroad, especially in the USA?
TS: Go where you want to live your own story and keep an open mind! I didn't expect what happened to me. Just enjoy! I met people during my course at the language school or in other places and it was a great aspect of my experience.
In the film capital of the world, ESL offers a unique ENGLISH + FILM STUDIES & FILMMAKING programme, which combines English classes with topics and workshops related to the movie industry. Take a language course in Los Angeles and discover how the movie industry started and what it has become while exploring various film-making and directing techniques, acting and special effects. You are in the right place to enter the world of motion pictures!